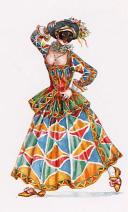 COLOMBINA !
She is also a servant and often fights with other mask characters for misanderstandings or advances and continuous jokes .
Colombina has a personality of her own :
free, insolent, not slave of love bonds, sometimes brilliant, vane always, chatterer, gossiper, always prone to intrigue at somebody else's expenses.
Her name means Dove !
**********************************************